VIZCAYA TECHNOLOGY PARK HOSTS A PRESENTATION ON LIFE+ ZERO-HYTECHPARK
Zamudio Technology Park, one of the partners in the LIFE+ Zero-Hytechpark project, has hosted the presentation of ZERO-HYTECHPARK's objectives and actions to work towards sustainability in technology parks within the framework of a Sunflower project meeting.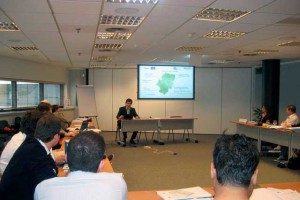 The Sunflower project is part of the Intelligent Energy-Europe (IEE) programme, and its aim is to promote, disseminate and implement examples of good practices in renewable energy projects which contribute to local sustainable development. Due to the synergy with the ZERO-HYTECHPARK approach, which pursues energy sustainability in buildings by integrating renewable energies and hydrogen technologies, the presentation of ZERO-HYTECHPARK was of great interest to the attendees of the meeting entitled "Working towards sustainable energy communities in Europe".
The meeting was attended by 21 representatives of the entities participating in Sunflower (Municipal Chamber of Moura, Portugal; Technical Engineering School of Lisbon, Portugal; Envipark, Italy; North York Moors National Park, England; Rochelle School of Engineering, France; Municipality of Sliven, Bulgaria; Healthy Cities, Czech Republic and Vizcaya Technology Park). The ZERO-HYTECHPARK presentation was made by Arturo Cabello, a specialist from the Hydrogen Foundation, which is coordinating the LIFE08 ENV/E/000136 project. Note: The photo shows Arturo Cabello, a Hydrogen Foundation specialist, during the ZERO-HYTECHPARK presentation in Vizcaya.