The PTA hosts a conference about energy efficiency and new energetic trends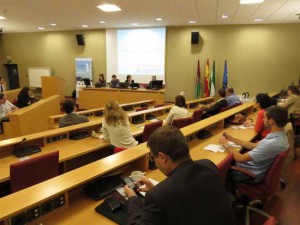 The technopolis of Malaga participates with the technology parks of Biscay, Walqa and Aragon Hydrogen Foundation on a project to get more sustainable parks.
The Technology Park of Andalusia (PTA) welcomed this morning a conference about "Energy efficiency and new trends," which had the participation of about thirty officers and students of the renewable energy sector.
At the event, which was opened by the director of PTA, Felipe Romera, have been present Alfonso Palacios, head of the Department of Studies and Projects of the Municipal Energy Agency of the City of Malaga, Lorenzo Castrillo, technical R & D oh the Foundation for the Development of New Hydrogen Technologies in Aragon, Carmen Agudo, manager of Habitec Foundation, and Andrés Piedrola, Director of Planning and Development of New Projects of Malaga Transport Company (EMT).
This event is part of the actions of the project Zero Hytechpark under Program Life of the European Commission, which aims to promote the use of hydrogen technologies and contribute to the implementation, updating and development of Community policy and legislation on environment. An initiative promoted by the Foundation for the Development of New Hydrogen Technologies in Aragon and the PTA with technology parks of Walka and Biscay.
The underlying theme of the discussion panel has revolved around the potential of this type of energy and what are the steps to be addressed for widespread use.
In this sense, Malaga is positioned as one of the leading cities in the use of new technologies for the creation of a self-sufficient city, a clear example of municipal commitment to sustainability, said the head of the Municipal Energy Agency. The reason is the newly introduced Zem2all project, which aims to massively introduce new services and the advantages of electric mobility, to be held in the city for a period of four years.
Outside of Malaga, in Walqa Technology Park in Aragon, where is the Hydrogen Foundation, a strategic plan for adapting a building to a building with zero CO2 emissions is being developed.