THE LIFE+ ZERO-HYTECHPARK PROJECT IS PRESENTED AT GENERA 2010
The LIFE+ ZERO-HYTECHPARK project (LIFE08 ENV/E/000136) presented its objective at Genera 2010, the International Energy and Environment Fair, held on 19, 20 and 21 May in Madrid.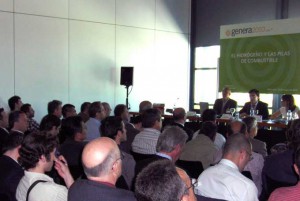 Invited by the Spanish Association of Hydrogen and the Spanish Technological Platform of Hydrogen and Fuel Cells, the Hydrogen Foundation, as the project coordinator, took part in a dissemination conference on hydrogen technologies. The paper covered ZERO-HYTECHPARK's actions and objectives for the implementation of energy solutions based on hydrogen technologies and renewable energies in technology parks. The conference was very successful, as it was attended by 120 professionals, mainly from the energy sector.