Number of schools and colleges visiting BTEK up 32% in 2012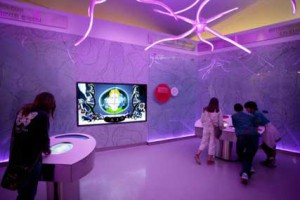 BTEK, the Technology Interpretation Centre at the Bizkaia Science and Technology Park received visits from more than 2200 students and teachers from schools and colleges during 2012, 32% more than in the previous year. During these visits, the students had the opportunity to visit the different modules of the centre, the objective of which is to bring technology closer and promote a culture of science and technology among young people. In addition they had a chance to participate in different workshops: the Bioscience Workshop, the Robotics Workshop and the Hydrogen Workshop, set up recently and in which hydrogen and renewable energy technologies are analysed: using different kits related to these technologies, the students are shown, in a simple practical manner, how these technologies operate in different situations.
Around 3800 people visited BTEK during 2012. The majority of these came from Bizkaia, followed by Gipuzkoa and Álava. The centre has also received groups from other regional communities and from abroad, for example, the group of young people from the "Academia Avance" school in Los Angeles (USA) who visited BTEK last May.
In addition, BTEK and the Fundación Athletic signed a collaboration agreement to unite technology and sport, an agreement which involved the production of a publicity campaign for the centre featuring the players, Ander Herrera and Fernando Amorebieta. The campaign was well-received and led to an increase in the number of applications to visit BTEK. Furthermore, for the second year running, the Summer Technology Camps took place in June and July.
As well as the visits from schools and colleges, BTEK also held a number of conferences, meetings and other events, including the conference, "Conocer para Elegir" (Find Out before You Choose) organised by Txorierri District Council, aimed at parents of students in the third or fourth year of compulsory secondary education; the training conference for experts in science communications and museumology; training conferences for teachers; the awarding of the prizes for the 10th edition of the Elhuyar Olympics; and the meeting of members of the European Zero-HytechPark project. With respect to this project, it should be noted that BTEK will be responsible for advertising the project. For this purpose the centre has launched a new permanent interactive module which explains what hydrogen technologies are.
In addition, last year BTEK took part, for the first time, in the meeting of directors and managers of Science and Technology Museums and Planetariums in Spain, a significant event in the process of becoming a member of this network. BTEK is already a member of the European Network of Science Centres and Museums.
BTEK was opened in June 2010, in building 602 at the Bizkaia Science and Technology Park. Since it first opened, it has received around 10,000 visitors.