Entrepreneurs of PTA know the business and investment opportunities in Cuba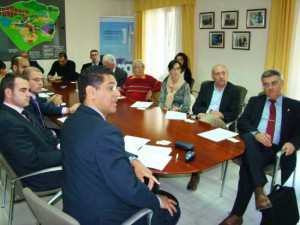 The event had the participation of more than a dozen commercial firms
The Technology Park of Andalusia (PTA) has welcomed this morning the visit of the Consul of Cuba in Andalusia, Extremadura, Ceuta and Melilla, Ulises Arranz, along with the commercial counselor of the Embassy of Cuba in Spain, José Antonio Fernández Estevez, who have met with more than a dozen of the park entrepreneurs interested in knowing the business and investment opportunities in the Caribbean country.
During their meeting, the Cuban representatives presented to the audience the current trade relations between Cuba and Spain, especially with Andalusia. In this sense, have addressed the main sectors include advantages in international setting. Mainly, Fernandez has highlighted the energy, biotechnology, agri-food and ICT sectors.
As was stated that one of the areas of interest is the energy, was presented at the evento the Project Zero HyTechPark that the PTA, in framework of the European Project Life, held together with Walqa Technology Park and the Foundation for Development of New Hydrogen Technologies in Aragon. The project works with hydrogen technologies and their application as clean and renewable energy source.
Subsequently, the entrepreneurs of the PTA have been able to have meetings with Cuban representatives, in order to present concrete proposals for internationalization of its services in Cuba.
Before the end of the event, the delegation had a tour in the park environment in order to see its facilities and some buildings.