BTEK launches hydrogen technology module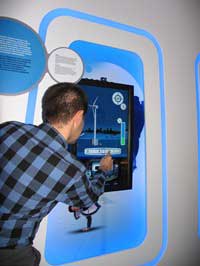 On 18 and 19 December, the BTEK Technology Interpretation Centre, was the meeting place for members of the European project, ZERO-HYTECHPARK, that is the Bizkaia Science and Technology Park, Walqa Technology Park, the Andalusia Technology Park and the Aragon Hydrogen Foundation, in addition to the project's external monitoring agent.
ZERO-HYTECHPARK is a project which comes under the European Union LIFE+ programme, with the aim of setting up measures to obtain total sustainability in the Technology Parks, with optimum management of energy using hydrogen-based technologies and renewable energies. It has a cost estimate of 1.3 million Euros for four years (1 January 2010 -31 December 2013), 50% funded by the European Union.
After the meeting, the participants visited the BTEK, Technology Interpretation Centre, where actions to raise awareness about the ZERO-HYTECHPARK project were based at the Bizkaia Science and Technology Park. BTEK has just launched a new permanent and interactive module, that serves to explain hydrogen technologies, using different everyday scenes adapted to the public for whom it is intended. Moreover, as a complement to the new module, a practical workshop on hydrogen technologies and renewable energies has been set up: using different kits related to these technologies, the students are shown, in a simple practical manner, how these technologies operate in different situations.
With this one, the Technology Interpretation Centre now offers visiting students three workshops: Biosciences, Robotics and now Hydrogen Technologies.