BIC Euronova promotes conference on environmental and energy management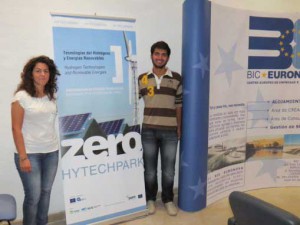 The event had the participation of more than a dozen attendees
This Tuesday, June 11, 2013, the Málaga CEEI BIC Euronova Business Incubator installed in the Technological Park of Andalusia (PTA), in co-organization with Ingho Facilities Management, SL and Bureau Veritas conducted a seminar on Environmental and Energy Management.
Under the general topic of Environmental and Energy Management – The way to Sustainability and Cost Reduction – the event featured presentations by the co-organizers which respectively discussed issues of Management Systems Certification Energy Efficiency, ISO 50001 , Product Lifecycle, calculate carbon footprint, and Experiences in the implementation of energy efficiency measures and systems for energy management and Contracting models.
In addition, in the event was disseminated information HyTechPark Zero Project conducted by the Technological Park of Andalusia (PTA) in partnership with Walqa Technology Park and the Foundation for the Development of New Hydrogen Technologies in Aragon. Under the European Project Life, the Zero HyTechPark exploration works with hydrogen, its energy potential and the applicability of this new energy technology as a clean and renewable energy source.